Massage Therapy is Perfect for Stress Relief

Can't get it all done? Financial worries? Covid concerns?
This is an uncertain and stressful time for people: Stay at home orders, working from home, remote schooling for kids, not being able to visit relatives and loved ones. Your body and mind become stressed by battling continuous challenges without relief and it can begin to wear on your well-being. According to the Gallup.com, 55% of Americans are stressed during the day. In 2020, the percentage of people experiencing significant stress and worry showed historic increases.
To help cope and heal your body and mind from these stress symptoms, doctors, therapists, and other health professionals recommend the power of massage. Research shows that massage reduces stress on physical and psychological levels by lowering heart rate, blood pressure, cortisol levels, and insulin levels. Serotonin and dopamine are also released, which helps the body overcome chronic or habitual as well as acute or short-term stress.
A well-known study by the University of Miami School of Medicine's Touch Research Institute found that 15 minutes in a massage chair enhances measurable EEG brain activity in adults. Additionally, these adults performed more quickly and accurately in mathematical testing after receiving the massage, while groups without massage showed no improvements.
The most common physical symptoms of stress:
Headaches
Upset Stomach
Elevated Blood Pressure
Chest Pain
Sleeping Troubles
Muscle Tension Pain
Stress will begin to affect your behavior as well if not treated. The common mental symptoms of stress include:
Anxiety
Restlessness
Irritability
Depression
Lack of Motivation/Focus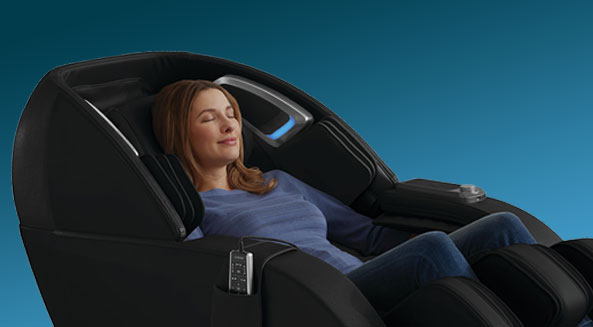 Muscle tension, pain reliever, mood booster — why a massage chair can help
Relieve Muscle Tension:

 

The 3D/4D massage rollers are able to push out further, deeper into your body and the 4D variable speed movements mimic the motions of human hands down the length of your spine and into your glutes.
Breath Easier:

 

A massage chair can help relax the respiratory muscles around your lungs and back to help you breathe easier and relax.
Relieve Pain:

 

Massage chairs can warm up your body and have targeted heat. Not on it is warm and cozy, but the heat also loosens tight muscle and opens up your body to fully experience the benefits of massage. Heat therapy helps with blood circulation, loosening muscles, allowing them to become more flexible. And it just feels good!
Boost Your Mood:

 

A good massage can have a positive impact on your well-being by helping to produce endorphins and serotonin in our brain. Easy-to-use auto programs like Energize, Soothe, Refresh allows you to choose a program that fits your mood.
Take a Load Off with Zero Gravity:

 

In zero gravity position, your legs can either be leveled with your back or elevated above your heart. This can give you a feeling of weightlessness and allows the mind to drift into a deeply peaceful state.
Reflexology to Relieve Stress:

 

According to the

 

Mayo Clinic, studies indicate reflexology may reduce pain and psychological symptoms, such as stress and anxiety. Most Infinity massage chairs feature triple shiatsu rollers along with the squeeze of air compression massage to provide reflexology relief throughout the body. It focuses on relieving points of tension within the soles of the feet and linking to other areas of the body.
Other tools you can use to help reduce stress
The Mayo Clinic recommends maintaining a healthy lifestyle, seek help and support from family and friends, and work on strategies to help deal with your stress triggers.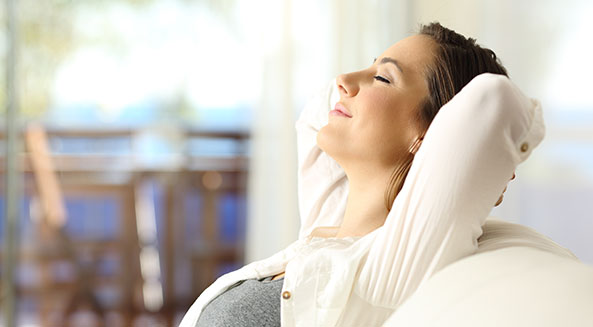 Life is busy and you have many things to take care of, but the most important one is yourself. Add a massage chair to your daily wellness routine so you can feel great every day. Connect with one of our massage chair experts at Info@remedychairs.com, or call us at (619) 367-6220.